In 1874, Dr. M. Halman and Dr. G. Tayman in Germany successfully synthesized vanillin, which is the first flavoring synthesized by human beings and the most widely used spice so far.
Over 200℃, the loss of vanillin is 90%. How to improve the thermal stability of vanillin, keep the aroma of vanillin for a long time, and reduce the use-cost? After three years of research and development, we have successfully developed Foodvanil™, which slowly releases the aroma of vanilla beans at high temperatures.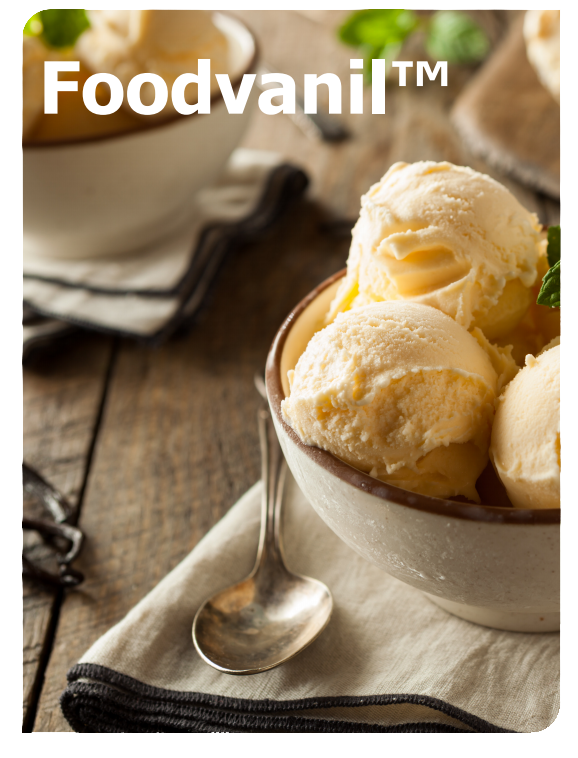 More Economical
In food applications, 1:1 equal ratio replacement can help you save costs by at least 18%!
More Delicious
In food applications, let the product taste closest to nature, left a lingering fragrance in your mouth
| | |
| --- | --- |
| Application | FoodVanil |
| Ice Cream | Strong milky fragrance, light scent, natural fragrance, and good aftertaste |
| Chocolate Sauce | Enhance the sweetness, milky taste, and aftertaste extension of the chocolate sauce |
| Cookies | Significantly enhance the sweetness and milk flavor and increase the vanilla flavor, improve the astringency of whole wheat cookies |
More natural, and healthier
Reduce the use of other chemical products to make products healthier
| | | |
| --- | --- | --- |
| Solvent | Vanillin | FoodVanil |
| Water | NO | YES |
| Alcohol | NO | NO |
| Glycerin | NO | NO |